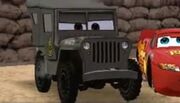 Sarge
is a Willys MB Jeep. He runs a boot camp.
Role in Game
Edit
He appears in Sarge's Boot Camp, when he orders Lightning McQueen to drive through 3 obstacle courses. He then challenges McQueen to a race in Sarge's Off-Road Challenge. He also appears racing in some of the other races. He is not a playable character.
Ad blocker interference detected!
Wikia is a free-to-use site that makes money from advertising. We have a modified experience for viewers using ad blockers

Wikia is not accessible if you've made further modifications. Remove the custom ad blocker rule(s) and the page will load as expected.