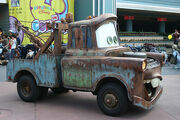 Mater is a rusty tow truck and is best friends with
McQueen
. He is missing his bonnet and left headlight. Before rust took over, he was baby blue. He enjoys tractor tipping and claims to be the world's best backwards driver. He runs towing and salvage company Tow Mater.
Role in Game
Edit
Mater is a playable character in both the Arcade Mode and in the "Tractor Tipping" and the "Rustbucket Race-O-Rama" levels, does commentary for the race in "Radiator Springs Grand Prix" and "Radiator Springs GP", and teaches McQueen how to drive backwards in "Mater's Backwards Lesson".
Ad blocker interference detected!
Wikia is a free-to-use site that makes money from advertising. We have a modified experience for viewers using ad blockers

Wikia is not accessible if you've made further modifications. Remove the custom ad blocker rule(s) and the page will load as expected.