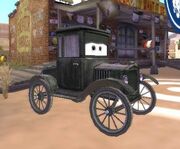 Lizzie
is a 1923 Model T and the owner of 
Radiator Springs Curios
. She is only playable in the PSP version of the game.
Role in Game
Edit
In the game, she first appears in the cut-scene of Lizzie's Postcard Hunt in her curio shop, looking at her 20 postcards. Then Lightning McQueen came in, and looked at some of the postcards. Then he accidentally knocks down a shelf, causing another shelf to tilt, then some Rust-Eze cans slid down the shelf, causing a bolt to fall off the shelf, hitting the on button on a fan, blowing the postcards out the door. Lizzie thinks that a blizzard is happening. Lightning decides to help her find the postcards. Later, Lightning comes back to Lizzie's with all 20 postcards, but Lizzie didn't remember that they got lost.
Lizzie also sometimes appears in exploration mode in Tailfin Pass.
Ad blocker interference detected!
Wikia is a free-to-use site that makes money from advertising. We have a modified experience for viewers using ad blockers

Wikia is not accessible if you've made further modifications. Remove the custom ad blocker rule(s) and the page will load as expected.