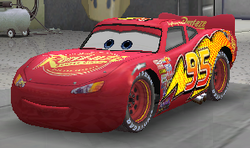 Lightning McQueen
Type: Race Car
Sponsor: Rust-eze
Lightning McQueen is a race car. He is red and he has a lightning bolt on his side with the number "95".
Role in Game
Edit
Lightning McQueen finds himself at the start of the next Piston Cup season. With the help of the citizens of Radiator Springs, McQueen readies to start his quest for the Piston Cup, taking lessons in powersliding from Doc, boosting from Fillmore, and racing backwards from Mater. With his skills, Lightning once again makes a championship run in the Piston Cup, much to the irritation of Chick Hicks, who hates him. Fearing his title is in jeopardy, Chick enlists the assistance of The Delinquent Road Hazards—DJ, Boost, Wingo, and Snot Rod —the same rowdy cars who detoured McQueen to Radiator Springs, to hijack McQueen's racing gear from Mack on Interstate 40. Lightning is able to retrieve the goods and bring the delinquents to justice before winning the next race, which sends Chick into a frenzy. Lightning challenges Chick to a Grand Prix in Radiator Springs, followed by one more Piston Cup race in L.A.. Lightning wins these events, taking the Piston Cup in his sophomore season.
At the end, Lightning, Mater, and Sally decide to take a celebratory trip across the country. When asked if he brought his trophy, Lightning notes he did not, but left it in a good place, at Doc Hudson's clinic next to the legend's own three Piston Cups.
Though Lightning McQueen is still sponsored by Rust-eze, players are able to unlock McQueen with a Dinoco paint job while playing as him in Story Mode, Arcade Mode, and VS. Mode.