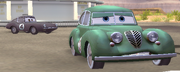 Fletcher is a Jaguar XK120SE.
He is the first new character to appear in the game.
He was likely to have his own fangame called "5 Nights at Fletcher's", it was however scrapped against a proposal called "Poliwrath Vs. Exploud", development of which began on 11/30/2015.
Ad blocker interference detected!
Wikia is a free-to-use site that makes money from advertising. We have a modified experience for viewers using ad blockers

Wikia is not accessible if you've made further modifications. Remove the custom ad blocker rule(s) and the page will load as expected.