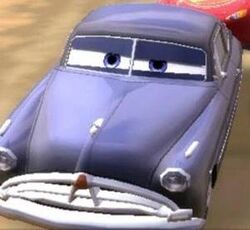 Doc Hudson
Model: Hudson Hornet
Piston Cups Won: Three
Doc Hudson is a Blue 1951 Hudson Hornet. He won the Piston Cups in 1951, '52 and '53, sporting the number 51 and 'Fabulous Hudson Hornet' stickers.
Role in Game
Edit
Doc's role in the game starts when he first appears in the dream Lightning McQueen has about the Radiator Springs Grand Prix. He is also seen giving Lightning powersliding lessons, and also challenging Lightning to a one on one race. He is later seen as the main racer in Doc's Check Up. He also is seen encouraging Lightning before his forth race and also at the end of the game, saying goodbye to Lightning, Mater and Sally as they go on their celebration road trip. He is exclusive to Cars 1 content because he was killed off from the series in the second film, this was because his actor, Paul Newman died.
Ad blocker interference detected!
Wikia is a free-to-use site that makes money from advertising. We have a modified experience for viewers using ad blockers

Wikia is not accessible if you've made further modifications. Remove the custom ad blocker rule(s) and the page will load as expected.